Oh man...I went to the BEST concert last night!! And I'm still on cloud 9!!!

I saw....MADNESS!!!!!!!!!!!!!!!!!!!!!!! Don't look at me like that...yes, I know, I'm 23...and they were at their height before I was born! LOL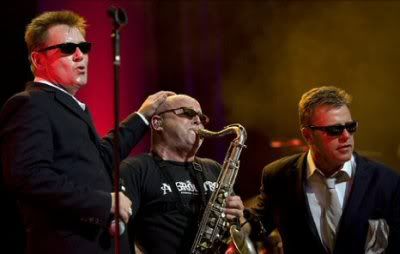 My aunt & I went together, and had such a fantastic time...we didn't stop dancing for their whole set (which went for approx. 1 hour 40 min)!!!

They performed all their big hits (except for "Driving In My Car"...but I got over my disappointment quite quickly!!) - they started with "One Step Beyond", which got everyone jumping - except the guy in front of me, who stood there watching me & my aunt...very creepy!! They also did "House of Fun", "It Must Be Love", "Our House", "Shut Up", "The Prince", plus heaps more, including a new song or two....and for their encore, they came on and did "Madness" (yes, it's a song..I'm not just repeating their name!! LOL) and "Night Boat to Cairo"!!!! Oh man...it was soooooooooooooo much fun!!

It was funny to see that when everyone was walking out, you looked around and everybody was dripping with sweat from dancing so much!!! :)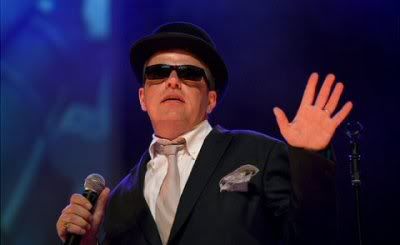 I
LOVE
Suggs!! He's so cool...yeah, the rest of the lads are great too...but Suggs is...well...Suggs!! :) You can't really describe him any better!! :)
I didn't take any photos (didn't want to risk getting my phone taken off me!!), so the two in this post are from the web...so thank you to whoever photographed these!! :)

To give you an idea of what they were like last night, here's a live video of them performing - yes, it's on TV..but it's live - and exactly like they did it last night!!
And I'll also give you the video for "Night Boat to Cairo"!! :)
Enjoy!! :)
--Liv--