I baked myself some cupcakes a couple of weeks back...didn't really want to show anyone the results, but, hey - I've got nothing else to post at the moment!! :)
I adapted the recipe from here.
Basically, our household doesn't use butter, so I used oil instead...anyway, here's the recipe I used (with my alterations):
½ cup oil
100g good-quality white cooking chocolate, chopped
½ cup milk
A little vanilla essence (or imitation vanilla...which is what we had in the pantry!)
1 egg, lightly whisked
¾ cup plain flour
½ cup self-raising flour


Preheat oven to 160°C. Line twelve muffin pans with paper cases.
Melt white chocolate. Combine the oil, melted chocolate, sugar, milk and vanilla in medium heatproof bowl and set aside for 5 minutes to cool slightly.
Gently whisk in the egg. Sift the combined flours over the chocolate mixture and gently whisk until just combined. Pour mixture evenly among prepared muffin pans. Bake in preheated oven for 30 minutes or until a skewer inserted into the centres comes out clean. Turn onto a wire rack and set aside for 1 hour to cool completely.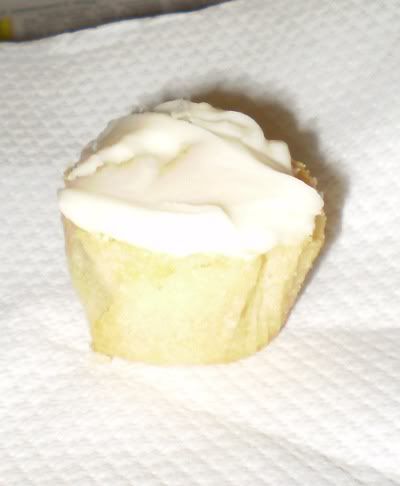 For the icing, I wanted to make a cream cheese 'frosting'...but then I found out that my mum ate the last of the cream cheese...so, I went with:
200g white chocolate
enough icing (powdered) sugar to make it look and feel right :)  (Great recipe, huh?!?)
Melt the chocolate, add the powdered sugar. Spread on cupcakes and let it set (yep, it goes hard!!)


Now, this recipe said it would make 12 cupcakes – well, I guess my muffin pan was smaller than what they used...I got 12 'normal-sized' and 20 mini cupcakes!!

Also, my cupcakes weren't really cake-y...the consistency was half-way between a cake and a biscuit (cookie for you North Americans).

My dad liked them, my sister didn't want to taste them, my mum said they were too sweet, and me...well, I couldn't figure out whether I liked them or not.



I think it might've been my baking skills (or lack-thereof) that let me down. I really can't bake, or cook, to save myself! I really need to learn!!

I have come to the conclusion that I need lessons from CakeSpy, Bakerella, Rosa from Rosa's Yummy Yums or the Daring Bakers!